Aether Story
Aether Story: MMORPG Patch Notes 0.3.90 - Bank Storage
---
Learn what's new in this change log for Aether Story. This change log covers the versions between 0.3.81 through 0.3.90. Continue reading to learn all the new stuff added in the last month.
New Feature: Bank Storage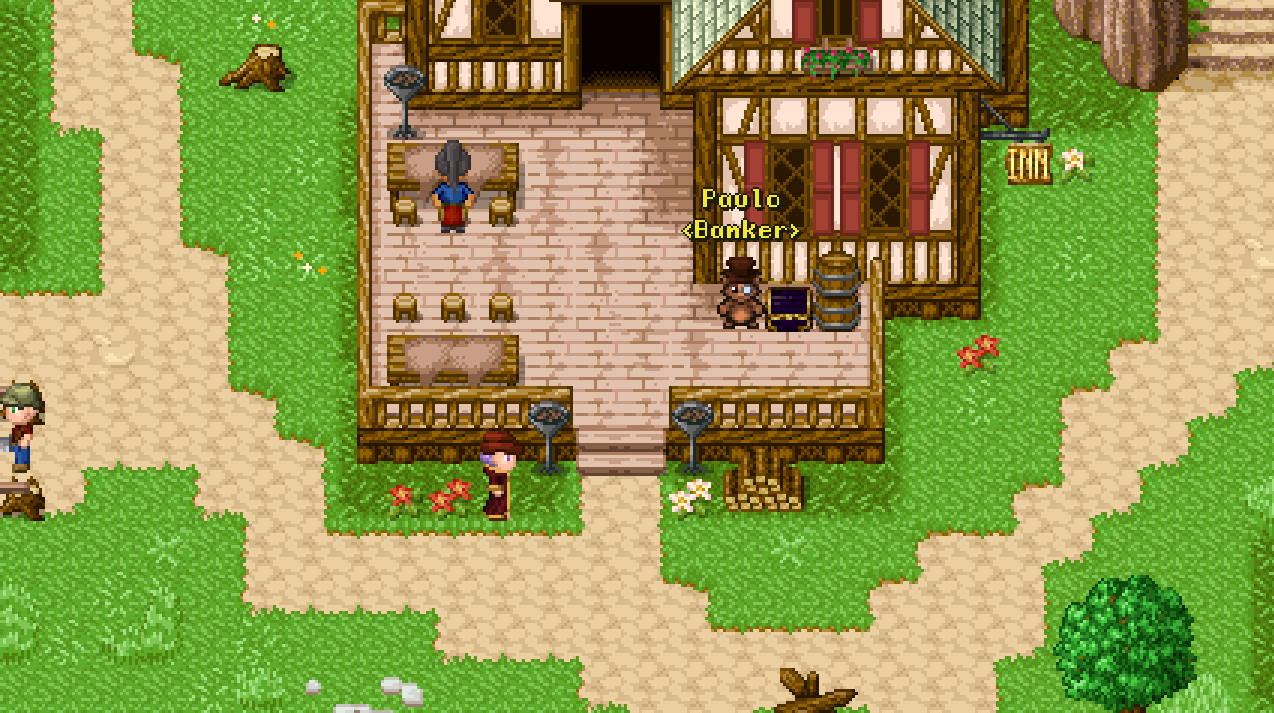 Paulo the Dizwin Banker is ready to take your items off your hands.
Introducing the last community voted and funded feature added to the game! The Bank Storage! This feature was successfully funded in the month of July 2020! Thank you everyone for helping us reach the goal!
The Bank Storage feature is an account-wide storage system allowing you to store items from any of your characters in a central location. As an added benefit this means you can trade items between your characters easily using this banking system. You are able to currently store 100 weight units in your account wide bank storage. In the future this limit will be increased through cash-shop upgrades, and possibly an in-game means.
Once more towns and cities are added to the game Paulo will be heading back to the Dizwin Bank and Trust Head Office, and you will have to travel to a different town or city. But Paulo the Banker decided to come and help the adventurers out in your time of need in this early stage of the game- of course he is very busy and is a bit annoyed that I plucked him from his indoor post- he is there to aid you and gladly take items off your hands.
The Bank system is an important addition to the game at this stage in development because it better allows you to horde and manage your inventory since weight management (being over encumbered) and cooking profession gathering has been added. I hope you enjoy the banking system.
Change Log:
World Map Improvements:

World Map Graphic - Mark worked hard this last month getting the World Map Graphic created. This final form of the graphic will be in the game until additional lands and zones are added. It even contains the zones that will be added in Alpha 4 (the next Alpha)
Keyboard Navigation - Charles also worked hard on getting a keyboard navigation formula working. This allows you to use the arrow keys to navigate between the points of interest while looking at the world map.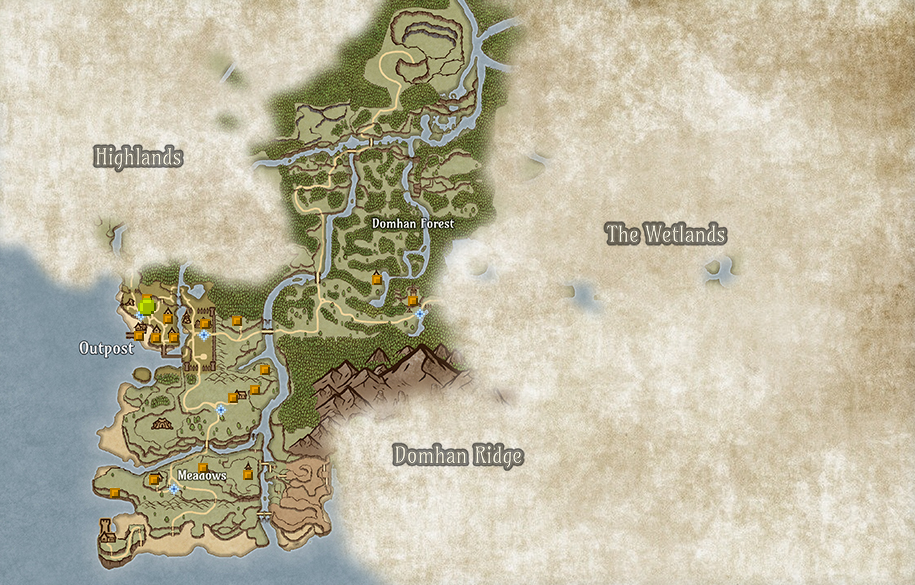 World Changes:

The Domhan Ridge - the Pass reworked - The area formly known as the Rookery, the desert like map east of the Abandoned Windmill, has been reworked due to the limited number of cooking profession node spawns, the map has become more mazey and harder to navigate. Even still, it is a popular place amoung the player base.
Secret: Moo Moo and the Water Shrine - In the Pass area of the Domhan Ridge you may find a cow named Moo Moo and her caretaker, Evan. They have both traveled through the Domhan Ridge from Marshtown, heading towards the Outpost, but sadly Moo Moo has climbed some steps and is afraid to come down! Both Evan and Moo Moo are thirsty from their travels and getting a bit delirious, so much so, that Evan has dreamed up a Water Shrine for him and his cow to drink at. Be sure to talk to them both until you too see the Water Shrine vision.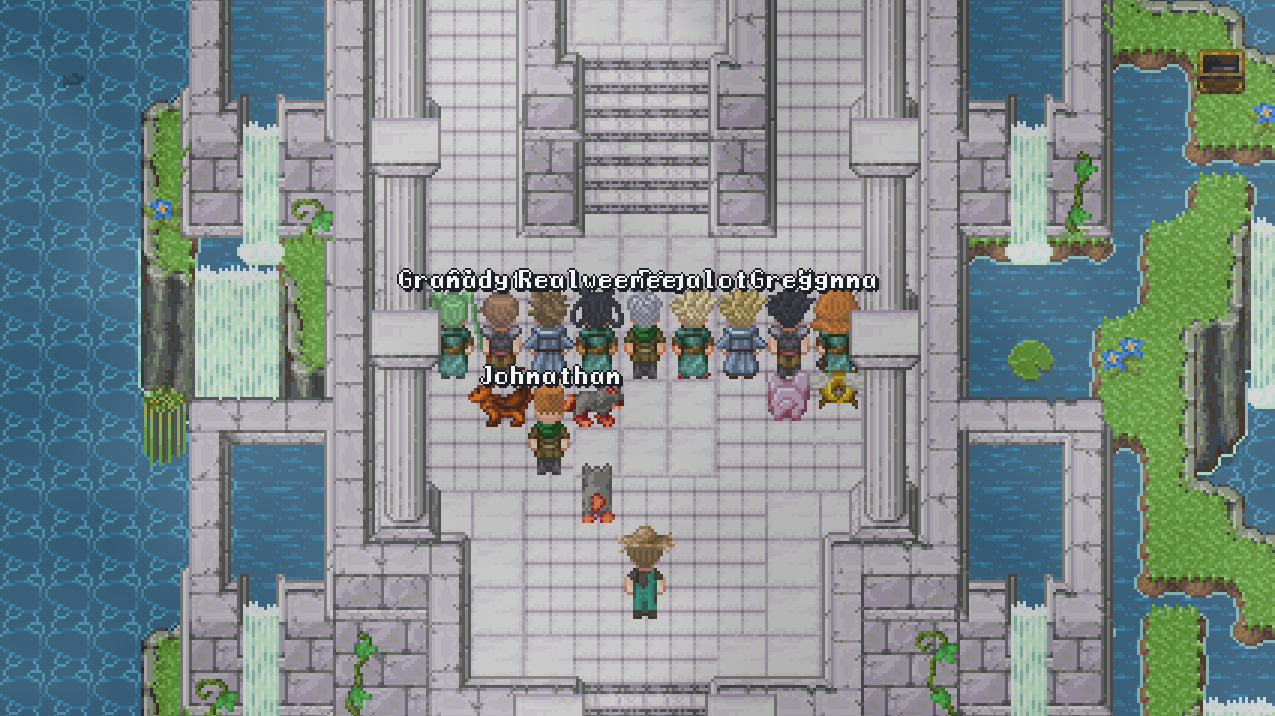 A special thanks to Clayton, Pigalot, JT, Envy, Codalot, Granady, Roman, and everyone else who donated last month to make the Water Shrine for Moo Moo a reality. Thank you all!
Misc:

Inn Keeper - the Inn Keeper has a new audio-visual animation and effect. Be sure to visit the Inn Keeper to check it out! The Inn has never felt more JRPG!
Banker - Banker Paulo has been added to the game outside the Domhan Outpost Inn, and will gladly store your items helping you with your burden. Read more about the Bank Storage feature above in this post.
Random Name Generator - when creating a character, if you cannot come up with a good name, you may now use the random name generator button. The names generated may not always be desirable, but you are welcome to spam that button a few times until you find a name you like. Names generated will always be available, should not contain any bad words, and are using many different random generation rules. The generator will be improved in time.
Disabled "/return" command functionality. Due to abuse by a single player, this command has been disabled. Now if you find yourself stuck you must contact us in discord to free you from your glitched position. But we will gladly help you, simply contact us through discord.gg/phanxgames for assistance.

Bug Fixes:

The game has been upgraded to 64-bit. This has increased how much memory the game is able to utilize on the GPU, due to the platform the game is developed with. Now we may use more than 512MB of GPU ram. A lot of crashes should be resolved because of this. But sadly this does mean you need to download and install a new Launcher. And if you don't have a 64-bit operating system you will no longer be able to play the game.
Players should no longer incorrectly appear in walls. This long lasting bug was finally resolved after many attempts. It was a single line of code incorrectly referenced on the server this whole time.
Other Players should now more consistently be visible when either you or them enter a map.
Selected item in any menu (inventory, merchant, bank, crafting, quests, etc) should be properly retained after interacting with the menu.
Minimap flickering randomly should no longer occur.
Fixed numerous crashes relating to the GUI refactor from the previous patch.
The server should properly enforce the client version when connecting.
[Press Space] on screen indicator should no longer disappear when others chat.
Disconnecting while clicking "Play Character" should be properly handled.
Properly handle spamming the "Play Character" button on both the client and server, where it prevented the character from being played again.
Closing a chest should no longer trigger the chest is empty message directly after.
Donating and reward processing has been improved and you should more consistently get your rewards automatically after donating. If you don't, feel free to contact support through discord.gg/phanxgames for assistance.
Crash reports are better logged and managed on the backend, and we kindly ask that you continue to look for bugs and crashes and fill out the crash report window that appears in game when one occurs. Also please submit your bugs using the Issue tracker here.
Known Bugs:
Character texture graphics get scrambled with other characters who enter the map at the same time as you. We will be fixing this soon.
Being in a party causes incorrect information to appear and makes the game unstable. We advise not being in a party until the party system is improved.
Logging out and changing characters in a single play session causes a memory leak and general instability. If you crash, please reopen the game and continue where you left off. We will hopefully address these issues in time.
Teleporting sometimes can get your character stuck in walls, please contact support through discord.gg/phanxgames for assistance.
The anti-cheat snapback system triggers incorrectly for players with high latency connections. We will be addressing this soon and appologize for any inconvience.
If you find any additional bugs or problems, be sure to report them using the Issue tracker here.
Are you ready to join the fun?
You may download the early Alpha access easily right here on itch.io!

We are really enthusiastic to have you play our game! Being a small indie game dev company, we depend on your support to keep us going. Please consider making a small donation to help us fund the continuous development of Aether Story! It will really help us out.
Files
Aether Story Alpha Installer (MacOS)
Mar 20, 2020
Aether Story Alpha Installer (Windows)
Mar 20, 2020